Highlights of Istanbul Tour
Istanbul has a bundle of energy everywhere. It is a hot tourist spot loaded with plenty of tourist attractions. You can get confused if you do not plan your agenda well in advance. Before making on your trip to Istanbul, it is necessary to do some planning. List out major tourist attraction and classify them on the basis of priority and your interest. You cannot cover even half the places if you do not plan your schedule before starting.
In this Istanbul tour, we combined all the important and historical places for you. After joining this Istanbul package tour, you will know Istanbul as locals do. We will visit these places: Blue Mosque, Hippodrome, Hagia Sophia, Grand Bazaar and Pierre Loti Hill. Also, you will join these activities: a cruise on the Bosphorus and ride a cable car.
Also, this tour can be done from the cruise ports. You can join this Istanbul shore excursion from Istanbul cruise ports.
Istanbul Tour Itinerary
You will be picked up from your hotels or cruise ports at 8:30 am ( This time can be different according to your pickup point). Our tour guide will give you an orientation for what are you going to do in this Istanbul tour.
When we arrive at Sultanahmet, we will go to Hagia Sophia (St. Sophia). After visiting inside of the Hagia Sophia we will walk about 4 minutes to arrive at Sultanahmet Square, we will see the German Fountain and Hippodrome. Our tour guide will give you information about these historical monuments. After that, we will go to the Blue Mosque (Sultan Ahmet Camii). And then, we will go to Grand Bazaar. After visiting in the Grand Bazaar, we will have a lunch at a local restaurant.
We will drive to the Golden Horn and arrive at the Pierre Loti Hill. After climbing to the Pierre Loti Hill (about 5-6 minutes), you can take amazing photos. Because it is one of the highest places in Istanbul, you can see the Istanbul from the top. We will take a cable car for going down. After arriving, we will have a wonderful cruise on the Bosphorus. During the Bosphorus cruise, you can see the beauty of whole Istanbul. You will see these places in the cruise (from the Marmara Sea): Dolmabahce Palace, Beylerbeyi Palace, Maiden's Tower, Anatolian Fortress, Bosphorus Bridges (15 Temmuz Sehitler Koprusu and Fatih Sultan Mehmet Bridge), old villas and more…
At the end of the Bosphorus cruise, we will drop you off to the places where the tour started (17:00 pm).
Pick up and drop off service
Transportation
Professional guide
Lunch
All entrance tickets
Parking and road tolls
Taxes
Tips
Personal expenses
Drinks at the lunch
Hagia Shophia is closed on Mondays, we will visit Underground Cistern instead of Hagia Sophia.
Grand Bazaar is closed on Sundays.
Blue Mosque is closed on Fridays.
30% discount for children between 2-7 ages and free for between 0-2 ages.
Brief Information About Some Places That You will Visit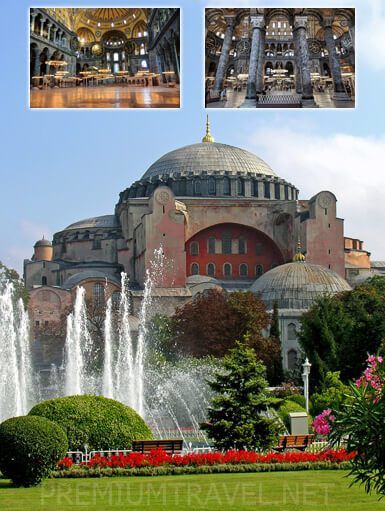 Hagia Sophia Museum
The church of the holy wisdom was given the name Hagia Sophia (in Greek) is a Byzantine church in Istanbul. The original church was built by Constantine in the 4th century which was destroyed by the attack and the present building was built in 535 AD by Emperor Justinian I. The Basilicas church was indeed a great surviving example of Byzantine architecture and excellent piece of antiquity. Though it was primarily founded as a Basilicas church now it is regarded as a place of Islamic worship. Thus Hagia Sophia was used both by Christians and by Muslims as a sacred destination. You will be fascinated to see the excellent marvels of Byzantine Mosaics throughout the place. You can find three mausoleums of Sultans, the physical remains of Theodosius Hagia Sophia and a Christian Baptistery outside the palace.
Blue Mosque
Originally called the Sultanahmet Mosque and is one of the finest historical monuments in the world of Islam. It has the pride of housing six minarets and very few mosques in the world have six minarets in them. It was commissioned by Sultanahmet with the intention of having a better place of worship for Muslims than Hagia Sophia. Work was started in 1609 and it took 7 years to complete the construction of Blue Mosque. It attracts a lot of tourists due to its rich architectural work and the reputation of six minarets. Another unique feature of this mosque is the arrangement of a cascade of domes. The cascades seem to fall out of the mighty central dome. The mosque originally has 20000 blue tiles in the ceiling and you can never see any blue color on the exterior of the mosque. Earlier the complex had a hospital, a primary school, an imaret and a madrasa inside but during the second half of 19th century, most of the portions of this complex were destroyed.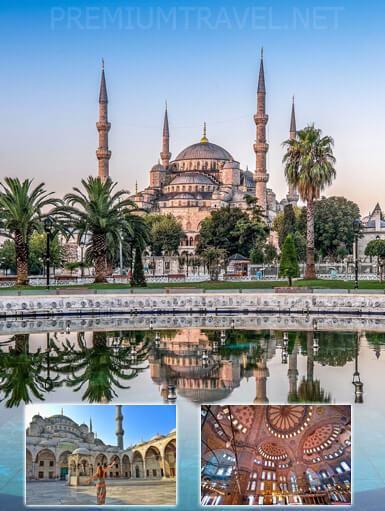 Grand Bazaar
A perfect destination for all your shopping needs at Istanbul is the Grand Bazaar. It offers ranges of products like carpets, leather items, ceramics, fashion jewelry and much more. It is the world's biggest shopping complex and each day around 3 million tourists visit this exotic place. It has four main gates and around 4000 shops inside.
Bosphorus
Set out on a cruise to explore the waterway and coastal area between Europe and Asia. You can witness a lot of wooden villas, marble palaces, and forts along the coastal villages. Ride across the Bosphorus Bridge which connects you with the neighboring continent of Asia in just a few minutes. You can enjoy an overwhelming view of the entire city through the Bridge.